Waitlist Me subscriptions include a Web Widget, which allows customers to make reservations or join the waitlist from your website. A Waitlist Me Pro or Platinum subscription adds more control through Business Hours, Display Hours, Scheduling Rules, and Blackout Dates.
Business Hours allows you to restrict the times that clients can make reservations/appointments.
Display Hours limits the times the Web Widget itself is available for clients to join the waitlist/request reservations.
Scheduling Rules let you add reservation limits on the number of groups and people by day and hour (or another time increment).
Blackout Dates let you completely block off a day.
To set these up, login online and navigate to Account > Settings > Add Yourself > Availability & Scheduling. Here you'll see links for each of these settings and a summary of all of your scheduling rules.

Select Business Hours to add the time frames when you wish to allow reservations. For example, if your business closes at 10:00 pm, you may not want to accept reservations after 9:00 pm. When customers try to book outside of those times, they will see a message about what time frames are available. There are also options to limit group size and how many days out reservations can be made, as well as how far in advance same-day reservations can be created.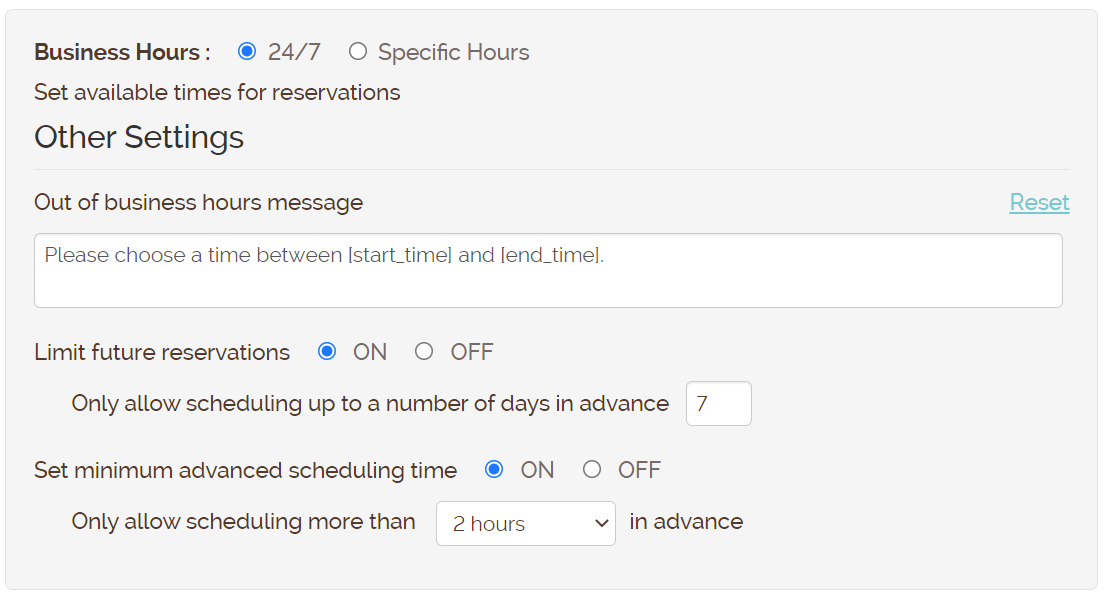 In addition to reservations and appointments, you can allow your customers to add themselves to the waitlist with the same Web Widget. The Display Hours feature controls when this widget is available. Set the availability as all day, limit it to specific hours, or show that you're closed.

You can also choose what message will appear when the widget isn't active:

Use the Scheduling Rules to set up limits on people and groups per day and time increment. Your rules will apply to self-scheduling done through the Web Widget and Kiosk, where customers will see a message when there isn't availability for a particular time or day. They wouldn't be able to book that time, but will see clickable suggestions for other times.

The rules will also trigger warnings within the Waitlist Me app if you try to schedule above the limit to make it easier to know when you might be overbooked. It won't block you from scheduling above the limits for cases where you know you can handle the booking.
The Arrival option is a simple limit for the number of reservations that can be made per hour. The Duration option will let you choose a different time increment, between 5 minutes and 6 hours, to specify how many people/groups can book in that timeframe. Platinum users have access to more more advanced table management features based on table availability and set
duration rules
based on group size, day and time.

To block off entire days, use the Black Out Dates feature. Add any dates that you do not wish to accept reservations. Use the Closed option when you do not want waitlist entries or reservations.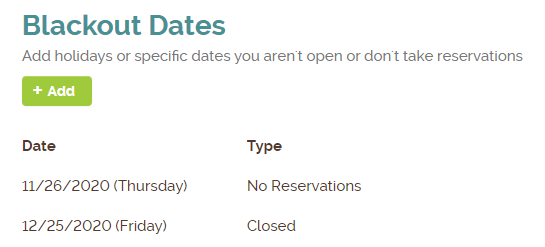 You can see more on how to set up your web widget
here
. See some reservation specific settings
here
. And schedule reminder emails for reservations/appointments
here
.
Once you've finalized your widget, check out our
Knowledge Base
for more in depth information on how to use all of the features Waitlist Me offers!