Waitlist Me Premium has an option for customers to add themselves to the waitlist, which they could do from home, from their phone, or even when they arrive at your business as a self check-in. This feature can be enabled from your online account settings and displayed as a customizable widget. Requests to be added to the list will appear in your Waitlist Me app for confirmation.
Web widget option
– Just copy and paste a line of code onto your website to display a box for providing a wait estimate and simple way for people to add themselves to the list. You can customize all the widget colors as well as a number of the display options for how it works. Read more here on the
web widget
.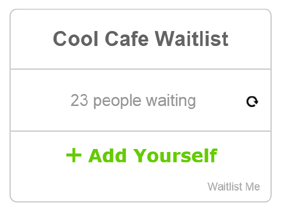 There are additional settings on what information you may want to be required and whether you'd want a waitlist request to automatically go into the list, require approval within the app, and be removed after a specified amount of time if not attended to.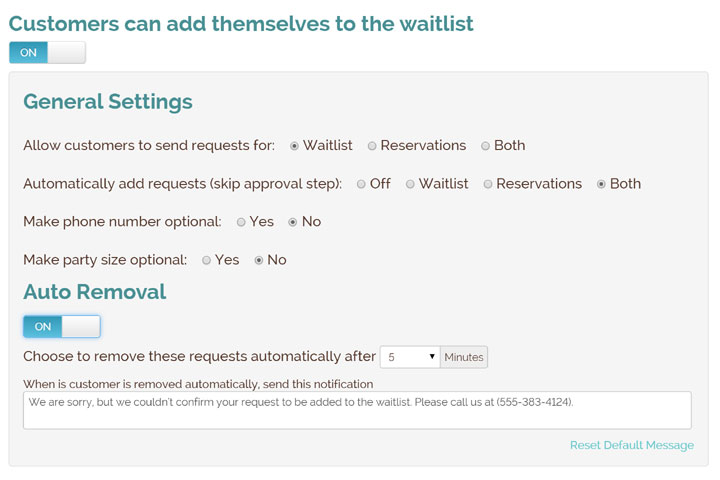 Online reservations
- You can also allow customers to send reservation requests from your website, and it works very similarly to how they can add themselves to the waitlist. Here is more on
online reservations
.
Availability Settings
- Waitlist Me Pro gives you more control over
self-scheduling availability
with features that let you set the display hours of when the widget will accept requests, business hours and capacity limits for when people can regularly make reservations, and blackout dates for specific days you may not be open.
Join From Google
- Potential customers can discover your restaurant through a Google search, and you can allow them to quickly join your waitlist directly from
Google
. Flip the switch in your settings and watch the new customers come through your doors.
Kiosk mode
- For self check-in, if you have an extra iPad to put by the door, you can switch the app to
Kiosk mode
to allow people to check themselves in.