Looking for an easier way to take reservations? Waitlist Me has a feature for customers to schedule reservations (or appointments) from your website, and it as easy as adding a link or line of code to set up.
You don't need to create any complicated rules for how many reservations are available at what times, as reservation requests will come to you for quick approvals within the Waitlist Me app. You'll receive a notification alert so you know when to check, and reservation requests will be highlighted at the top of your main waitlist page as well as on the daily reservation views.

When you approve a request in the app, the customer automatically gets a confirmation text with their time, and the reservation appears in the reservations area of Waitlist Me. If you decline it, the customer receives a text notifying them that it could not be scheduled.
To enable the feature, log into
Waitlist Me
, go to the Settings area, and then turn on the Add Yourself feature. From there you can customize things like the information you require from customers, whether you'd like to skip the approval step to have them automatically scheduled, and more.
Here is how the Settings look: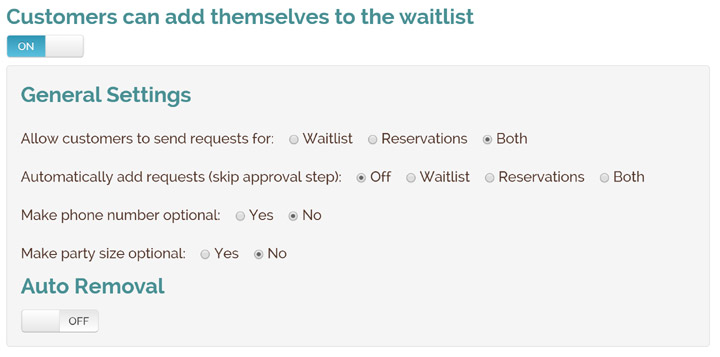 You can use our Web Widget on your own website. Here is an example of how that looks and you can customize the look and feel of the web widget in the Waitlist Me settings.