To customize notifications that are sent to customers, log into
Waitlist Me
and click on the "Account" link at the top and then on "Settings". Or you can go to the Settings area in the Waitlist Me apps.
There are three messages you can send to each customer. The confirmation notification goes out when you add a customer to the list, and contains their estimated wait time and a link to the public waitlist page so they can check their place in line from the phone. There is also a variation of this message that goes out when you choose to set an ETA time, like for a reservation rather than a quoted time. There is also the option to turn off the confirmation altogether.

To view the ETA variation, click on the ETA tab.
The notification text is triggered by pressing the notification icon in the app that let's the guest know you are ready for them. Premium and Pro users also have the option to allow customers to send simple
text message responses
if they need more time or decided not to come, and these responses will show in the app.

If you need to notify a customer a second time, you can choose to have an automated call go out or a text message. Make edits to the text notification, or choose from a list of pre-recorded options for the phone call.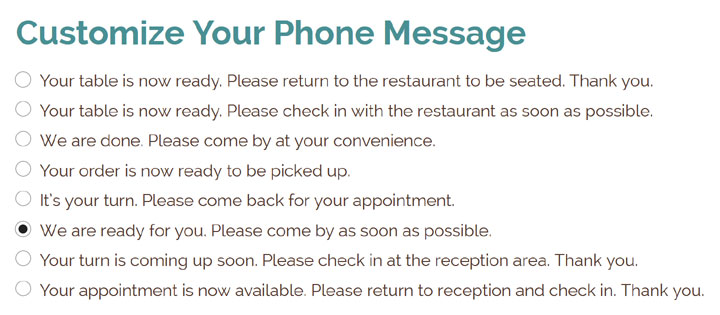 Pro users can also type in text for a custom text-to-voice phone call for further customizing that message beyond the default options.