Different businesses have different needs, which is why the resources can be sorted in multiple ways. At the simplest level, the colors of the boxes in Grid View show whether the resource is available or not, so it is easy to do a quick scan and find ones that are open. Across the bottom of the boxes are the resource sizes and time counters when they are in use. Depending on your preferences and goals the resources can be sorted in several ways:
ABC
– Sort alphabetically by name.
Size
– Show resources grouped by capacity, then sorted by name or by how long they've been occupied.
Section
– Group tables by section, and sort within each section by table name or by how long tables have been taken. Then choose if you want to see the sections ordered by section names, how many groups are currently seated, how many people are currently seated, or how many tables are open. (The most popular view for restaurants is to sort by Section, then Time and Section Name.)
Status
– Group by resource status, with the available (green) status first and then other statuses grouped and ordered by ones in use the longest; or show in alphabetical order.
Time
– Shows available resources first and then taken resources by how long they have been in use.
One of the most popular views!
Pressing on the header links in the gray bar gives you multiple options for how you want to see your resources. Play around with different combinations until you find the one that fits you best!
One common view is sorting by time - the open resources will show first, followed by resources that have been occupied the longest: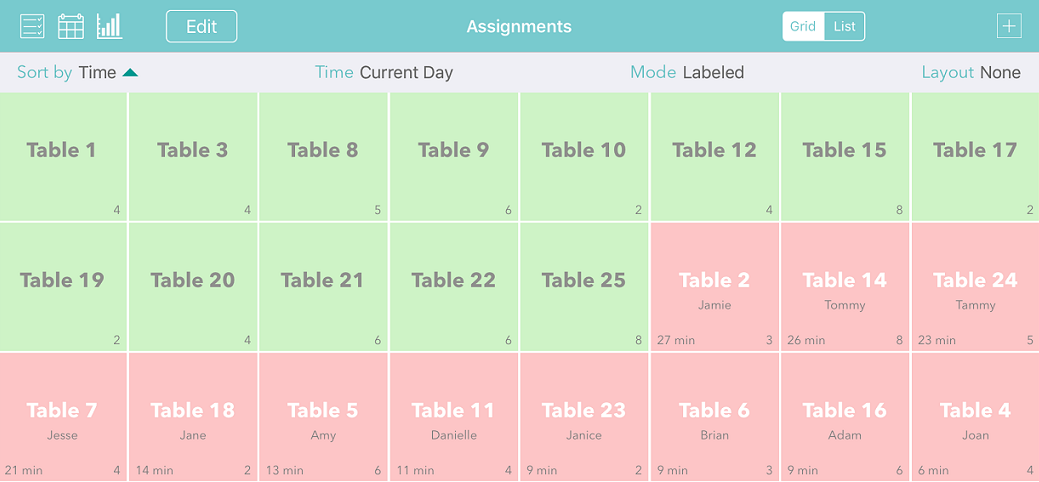 For a restaurant using sections, one of the most helpful layouts is the Section/Time/Name sort, with the labeled mode. You can quickly see how full each section is, which will help you to decide where to seat the next party. Use the
Stats button
to get the complete picture on how many guests each server has had for the current shift.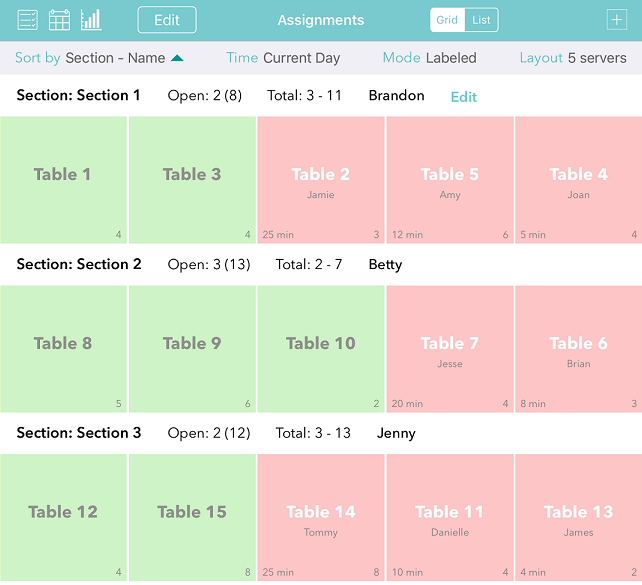 Press Open on the footer bar to use Split Screen mode to have the key features from both the waitlist and assignment views at the same time. Here you'll have full waitlist functionality while also managing your resources. Drag the bar at the top of the waitlist to adjust its height to fit your needs.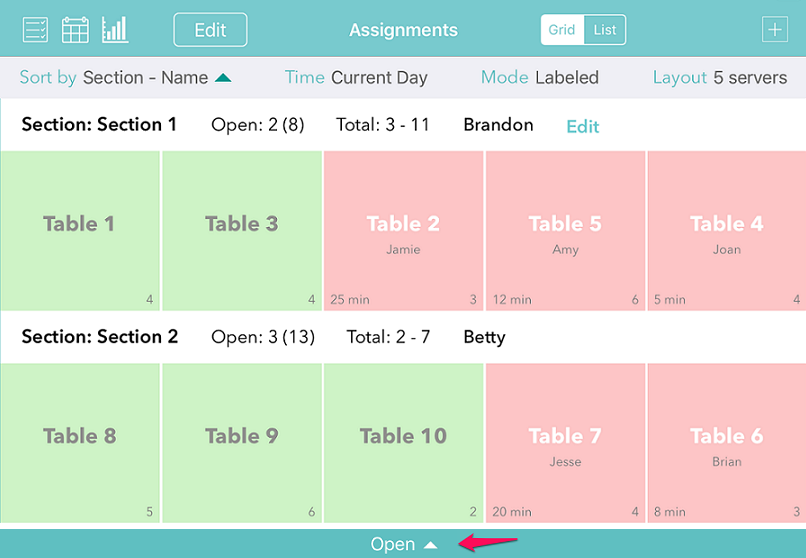 If you do a server rotation instead of sections, there are features for managing that with a Platinum subscription. See
this page
for setting that up.
Related table management features:
Table Setup
|
Section Setup
|
Stats